Click on image to zoom in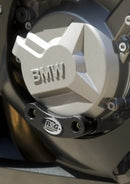 R&G Racing Engine Case Slider for '09-'17 BMW S1000RR, '14-'17 S1000R
This engine case sliders for the BMW S1000RR & S1000R models fit neatly and easily to the existing engine case without the need to drain and fuilds and will provide additional protection in the event of a drop.
R&G Racing engine case sliders compliment the R&G Racing crash protectors and the additional range of products that we offer for these bikes.
Payment & Security
Your payment information is processed securely. We do not store credit card details nor have access to your credit card information.