Click on image to zoom in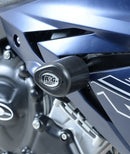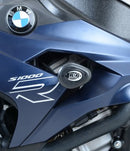 R&G Aero Crash Protectors BMW S1000R '14-'16
Constructed of heavy-duty machined steel, aluminum, and high-density nylon, R&G frame sliders provide maximum protection and high quality fit and finish. R&G "Aero" sliders have an aerodynamic teardrop shape for a more streamlined look than traditional cylindrical slider pucks.
The protector itself is machined from High Density Polyethylene (HDPE) – chosen because as it wears it actually helps to slow a sliding bike. The bolts used are also de-embrittled steel; working as a shock absorber to bend instead of snapping or staying rigid - which could twist the mounting point.
No modification to the fairing is necessary.
Fitments:

Payment & Security
Your payment information is processed securely. We do not store credit card details nor have access to your credit card information.