Click on image to zoom in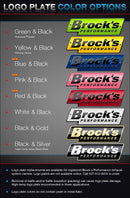 Brocks Performance TiWinder Blue 18" Muffler Race Full Titanium Exhaust System '06-'20 Kawasaki ZX14R
Developed for use in conjunction with the 1.5 inch deep Adam's Performance aftermarket oil pan/oil filter relocator utilizing our new 'elliptical' megaphone outlet for maximum ground clearance during the hardest chassis-dragging launches. This additional ground clearance also makes our new TiWinder™ more user-friendly during cornering as a result of the best right hand cornering clearance on the market. Note: Stock oil pan and oil filter may also be used.
Utilizing our industry-first 4-2-1 Sidewinder configuration, the TiWinder™ outperforms any other system we have ever tested/manufactured not only on the dyno, but, more importantly, during real world drag strip testing. Stock displacement to BIG CC 'mountain' motors benefit alike from maximum peak AND average horsepower combined with a smooth linear torque curve throughout the entire rev range from launch to limiter. Constructed of a combination of exotic titanium alloy tubing, we offer the first aftermarket production motorcycle exhaust system in the world to use the Ti-1Cu-0.5Nb series high-temperature blend in critical areas to handle the extreme temperatures generated by the use of nitrous oxide. The 'grudge' crowd will be happy to hear that the entire system only weighs 5.3 lbs without the baffle!
Spring-mounted utilizing our newly designed 'big cc' stainless steel spigots with billet aluminum clamp plates for quick, between round maintenance and designed for use with stock or quick access clutch covers (modification to certain aftermarket covers required - consult our technical department for additional details).
Dual O2 bosses allow independent Air/Fuel measurements in headpipes 1&2 and/or 3&4 for more precise cylinder 'trim' measurements.
System includes replacement laser-cut stainless steel lower radiator mounting bracket, and a longer rear brake clevis to allow use of your stock rear brake lever. Right side fairing modifications required; instructions included. Ask anyone who has picked up one of these works of art… "WOW!" and "DAMN!" are the most used terms.
This is the system used by Rickey Gadson on the world's quickest ZX-14 AMA Dragbike Real Street / MIROCK Real Street machine at 7.83 @ 177MPH
Feature:
* Elliptical megaphone with removable race baffle
* Blue anodized finish
* World class craftsmanship, fit, and finish
* Dual 18mm O2 sensor bungs pre-installed
* Fairing modifications required; installation hardware and instructions included
* Includes (Emissions/PAIR) Block Off Cap and instructions for decel-pop reduction
* May be used with OEM oil pan; aftermarket billet pan suggested for maximum ground clearance
* Oil cooler can be retained using the stock oil lines
* Patented Design: Click here to view U.S. Design Patents
* Includes Brock's lifetime direct support package At no additional charge
* Select from increased drivability/fuel mileage (pump gas) or race-proven (race fuel) track maps via our map support program At no additional charge
Payment & Security
Your payment information is processed securely. We do not store credit card details nor have access to your credit card information.