Click on image to zoom in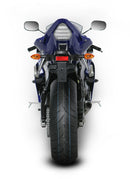 Akrapovic Slip On Line (Titanium Megaphone) Exhaust '06-'20 Yamaha YZF R6
Performance
Measurements of the Akrapovic SLIP-ON megaphone system on the YAMAHA YZF R6 (without muffler insert):
Power & Torque: the R6's engine spins more freely with the Akrapovic Slip-On system, which is reflected in the power and torque curves. The amount of increased power expands as you go up the rpm range, so that at 14560 rpm the rear wheel puts out 112.9HP. Max. increased power of 1.2 HP was measured at a screaming 14580 rpm.
Payment & Security
Your payment information is processed securely. We do not store credit card details nor have access to your credit card information.