Click on image to zoom in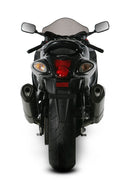 Akrapovic Slip-On Line (Carbon) Exhaust System '08-'17 Suzuki GSX-R1300 Hayabusa
* EC Type Appoval
* EPA (80dBA)
* CARB Compliant for use in California
Performance
Measurements of the Akrapovic SLIP-ON open system on the SUZUKI GSX-R HAYABUSA (without muffler insert):

Power & Torque: the Akrapovic Slip-On system delivers increase engine responsiveness. The increase gradually expands from the 5500 rpm. From there to the top of the range the increase remains at the same level. At 9680 rpm we measured 182.9 HP, with a max. increased power of 4.2 HP at 10190 rpm.
Payment & Security
Your payment information is processed securely. We do not store credit card details nor have access to your credit card information.